Intro: Finding The Best Online Trading Site and Top Online Stock Trading Platform for Your Investments
---
Finding an online trading platform that works for you can make your investments more lucrative and less time-consuming than ever before. But how do you know which of the myriad of stock trading websites is the best stock trading platform?
Some trading platforms are more heavily advertised than others (think of the E*Trade baby commercials), and if you've spent any time searching for the best online trading platforms, you've surely bumped into a few of the top trading platforms already.
Review of the Best Online Stock Trading Sites in 2016-2017
Different stock trading websites will have various features that may appeal to you, depending on your investment style and preferences. The best online trading platforms are easy to use, offer low fees, and specialize in the type of securities you're most interested in buying and selling.
In our review of the best stock trading platform options, we're going to take a closer look and rank 2016-2017's best online trading platforms to make your research a little bit easier.
The below online stock trading review article presents a list of this year's top online stock trading brokers as well as a detailed review of each of these highly rated stock brokerage platforms.
We've also included an overview of the approach, research, and selection methodology used by AdvisoryHQ when conducting these online stock trading reviews.
Trish Regan – "From my desk, I have a view of a packed newsroom with the energy of a trading floor and America's financial pulse."
---
List of the Top 6 Best Stock Trading Sites & Platforms in 2016-2017
Here is this year's list of the top ranking stock trading website.
The list is sorted alphabetically (click any of the names above to go directly to the detailed review section for that online trading platform)
---
---
Top 6 Best Online Trading Platforms | 2016-2017 Ranking
| | | |
| --- | --- | --- |
| Best Stock Trading Site | Account Minimum | Fees at a Glance |
| Betterment | None | 0.35% |
| E*Trade | $500 | $9.99 |
| Motif Investing | $250 | $9.95 |
| OptionsHouse | None | $4.95 |
| TD Ameritrade | None | $9.99 |
| TradeKing | None | $4.95 |
Table: The Top 6 Best Online Trading Sites
Additional Comparison Ranking – Rates & Fees
Ranking Factors

TD
Ameritrade

E*
TRADE

Trade King

Fidelity

Scot-
trade

Cost Per Trade

$9.99

$6.99
–
$9.99

$4.95

$7.95

$7

Margin Rates ($0.01–$9,999)

9.00%

8.44%

7.75%
–
8.75%

8.58%

7.75%

Margin Rates ($10K–$24K)

8.75%

8.44%

7.75%

8.08%

7.50%

Margin Rates ($25K–$249K)

7.25%
–
8.5%

6.14%
–
7.94%

5.50%
–
7.75%

6.575%
–
7.575%

6.50%
–
7.25%

Min. Initial Deposit

$0
($2000 -margin account)

$500 ($2000 -margin account)

$0
($2000 – margin account)

$2500 ($5000 – margin account)

2500
---
What Do Active Traders & Experienced Investors Look for in an Online Stock Trading Platform?
Price Per Trade: Price per trade is the first and also the biggest factor for individual investors and professional traders who seek the best online trading platform. As you are most likely aware, price per trade is how much you'll pay each time you trade (buy/sell) stocks, options, futures, bonds, or other financial products. If you trade or invest often, you'll find out very quickly how beneficial it is to go with a a top online trading platform that offers a low price per trade.
Low Monthly Fees: Paying "little to no" service fees (i.e., $0 inactivity fees and no maintenance fees) is another key factor for investors and traders when they are conducting online stock trading reviews to find the top online stock broker and the best trading platform that fits their needs.

Going with an online stock trading website that offers little to zero account maintenance fees increases your overall trading and investing returns.

Fast Execution: Opening a trading account with the best stock trading site that provides the fastest trade execution is another top priority for online traders and investors and is a factor that you should definitely consider before making your selection. When trading or investing in fast-moving markets, sometimes the difference between gaining and losing thousands of dollars comes down to a few milliseconds (0.001 vs. 0.01 seconds can make or lose you a ton of money). Hence, extremely fast trade execution should be a top priority.
Added Value: In addition to the factors outlined in the section above, you'll also want to consider "added value" or "perks" as important factors when searching for and selecting the best online stock trading platform. For example, some investors consider value promotions (e.g., receiving up to $1,000 when you open an account), 24/7 customer service, free research tools, and highly advanced stock trading platforms as key criteria when finding the best stock trading site that meets their needs.
Why Use an Online Discount Trading Platform vs. a Full Service Brokerage?
The best online trading platforms will make investing your money in various types of securities simpler than ever before. While stock trading websites abound, you can also purchase bonds, options, futures, and currencies through many of the best online trading platforms.
What is the primary draw to these types of trading websites, even for the very best trading platforms? First and foremost, investors tend to love using an online trading platform because it can be a heavily discounted form of brokerage investing and trading. Because the cost to run these online trading platforms is decreased, those savings can be passed on to users via lower commissions.
Many users also prefer to use a top best trading platform because it allows them to make trades faster than a traditional brokerage is capable of making them. Reducing the amount of paperwork necessary to make a trade and then reducing the redundancy of entering that information electronically makes your trades happen faster. For some investors, time may not be of the essence. However, if you were looking for the best stock trading site for day trading, a few minutes saved on a trade might make all the difference.
As we mentioned earlier, the best stock trading platform will depend mostly on how you intend to trade. One site may be geared more towards day trading, while another offers more innovative technology to help you measure risks. The best online trading platforms have some combination of all of the features discussed in this section, but they will likely specialize in becoming the best trading platform for just one specific type of trader.
---
Top Online Stock Trading Platforms
| | |
| --- | --- |
| Platforms | Website |
| Betterment | |
| E*Trade | |
| Motif Investing | |
| OptionsHouse | |
| TD Ameritrade | |
| TradeKing | |
(List is sorted alphabetically)
Detailed Review—Top Ranking Best Online Trading Platforms
Below you will find our detailed review of each of the best online trading platforms on our list of the top six ranking best online trading platforms.
We will highlight some of the contributing factors that allowed these top trading platforms to score so high on our selection ranking.
---
TradeKing Review
---
Founded in 2005, TradeKing seems to value two things above others: low commissions and customer service.
While they also have technology and investment research similar to that from E*Trade, OptionsHouse, and TD Ameritrade, they feel that those two areas are where they really shine.
TradeKing is one of the year's best and most highly rated online trading sites. With TradeKing, you pay $4.95 for stock and ETF trades and $4.95 plus 65 cents per contract when trading options.
Try TradeKing and Trade Commission Free
TradeKing is built for serious traders whotrade actively and in large volumes. But new and intermediate investors and traders also benefit from the advanced trading capabilities provided by TradeKing as well as its low price per trade cost.
There are no account minimums, and the firm's customer service is ranked #1.
Key Factors that Enabled This Online Trading Platform to Rank as One of the Best Online Trading Platforms
If you're interested to see how those two categories line up, take a look below to see how we rated them for our own review of stock trading websites.
Customer Service
Over the past few years, TradeKing has been acknowledged as one of the best trading platforms when it comes to customer service. This award was bestowed upon them by Smart Money in 2008, 2010, 2011, and 2012 for its customer service.
The various forms of customer service available through TradeKing include:
Phone: TradeKing promises to try to answer all calls within seconds without complicated menus or long hold times.
Online chat: Reach a specialized broker instantly on the live chat feature.
Email: TradeKing tries to respond within 2 hours to every email inquiry but gives themselves up to 24 hours during the weekends.
Technology
One of the best features of the TradeKing trading platform is the use of their TradeKing LIVE software. Instead of dealing with large downloads limiting your ability to access your investments from every computer, their software is browser-based. Your information and quotes are streamed directly through this software. The best part is that because it does not involve downloads, you can access it from anywhere and any device.
In addition to this software, you can also use their other tools:
► Click HERE: Trade commission free up to $1,000 at TradeKing ◄
No matter what sort of information you need to assemble, TradeKing probably has a technological tool to help you find the answers.
TradeKing Pricing
You are not required to have an account minimum when you get started with TradeKing. However, there are a few drawbacks to maintaining a low balance or an inactive trading account: you are charged $50 for foregoing commission-charged trades and for dipping beneath a $2,500 account balance.
TradeKing does offer some of the lowest commission rates among the best stock trading platforms. Their stock and ETF trade commission rate falls at $4.95 with an additional $0.65 per contract for options. The only other option that fell under our ranking of the best online trading sites with a lower commission fee was OptionsHouse.
You can watch and interact with fellow stock and option traders. You can share experiences, ideas, and strategies for trading stock online. Relative to other discount brokers, TradeKing is dirt cheap.
Open an account & get $50 when you refer a friend
Most of the savings you get from TradeKing comes from the fact that it devotes fewer dollars to its advertising budget than other firms.
However, note that you will pay an additional 1 cent per each stock under $2, and if your account is under $2500 and you don't make a trade for 12 months, you will be slammed with a $50 inactivity fee. For the price, its available research is good – even if it, perhaps, lacks some of the bells and whistles of other brokers.
There is an active user forum, and interaction with other traders is strongly encouraged. The general consensus across online stock trading reviews is that you can't go wrong with TradeKing.
Click below to open your account with TradeKing and start enjoying all of the perks.
TradeKing – $4.95 per stock trade (Top rated online broker)
---
TD Ameritrade Review
---
TD Ameritrade
provides a wide range of research and trading tools which investors – from new to those more experienced – have found to be very useful when conducting stock, ETF or options research.
TD Ameritrade is a top pick for those investors who want access to similar analytical tools used by Wall Street, hedge funds, and institutional investors, including a customizable workspace, screeners, streaming market commentary/charts, back testing, strategy rollers, etc.
Join TD Ameritrade. Straight forward pricing, No hidden fees.
If you are only trading stocks and just starting out, the $0 minimum balance to open an account will be very appealing. This is a great company to use if you only want to invest in American markets, and the fees are competitive and attractive to beginners.
In addition to providing powerful trading tools to experienced traders, it is clear that TD Ameritrade has positioned itself to be the broker for new and beginning investors, and it is prone to spending large amounts of money on advertising at large sporting events.

With 24/7 customer service, great research tools, numerous other investment options, and plenty of physical branches throughout the U.S., TD Ameritrade is a great choice and is this year's best stock trading platform.
Another long-running best online trading site, TD Ameritrade has been around for forty years and counting. It became one of the first "discount brokerages" in the early 1980s and continues to offer the same low trade commission today. They were ranked first in their class for usability, according to Barron's, and have made it into several rankings as one of the best online stock trading options.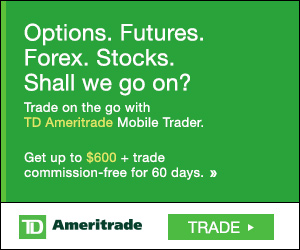 Key Factors that Enabled This Online Trading Platform to Rank as One of the Best Online Trading Platforms
Find out why TD Ameritrade made it onto our ranking as one of the best online trading platform options around.
Education and Research
TD Ameritrade offers a lot of education and research on potential investments, perfect for beginner do-it-yourself investors or more seasoned traders. Beginners can get a quick crash course in trading with seminars and webcasts. Learn the different account types and investment products, about taxes, and planning for specific life goals like college or retirement.
Once you've mastered the basics, you can take advantage of their third-party research to help evaluate your investment strategy. Like many of the best stock trading platforms, TD Ameritrade has technology and tools to help you evaluate the performance and market conditions on their numerous investment options. Evaluate the current stance of stocks, options, mutual funds, ETFs, bonds, and CDs.
When it comes to research amenities, Barron's again rated TD Ameritrade as the best stock trading platform two years running.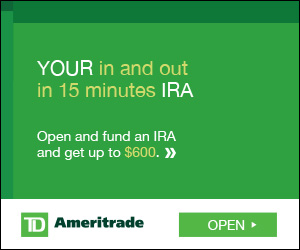 Technology
One of the greatest features that marked TD Ameritrade as one of the best online trading platforms is the option to choose which of their platforms works best for you. You can choose between four options:
Web Platform—for serious fundamental investors

Trade Architect—for active investors and traders

Think or Swim—for serious traders

Mobile—for on-the-go investors and traders
Each one of their platforms features different tools and choices, customizable based on your preferences. Stream news, analyze resources to come up with ideas for your next investment, and make trades quickly and easily. You can also set up alerts from many of these platforms to keep you in the loop.
► Join TD Ameritrade. Trade free for 60 days + Get up to $600 ◄
TD Ameritrade Fees & Pricing
There is no account minimum required to get started on this online trading platform. However, they do require a $2,000 deposit to be considered for margin and options privileges.
Slightly higher than some of the other best stock trading platform choices, TD Ameritrade charges $9.99 to trade unlimited shares (within the same trading day) when using the internet. ETFs and options will come with the same charge (plus a $0.75 fee per contract on options).
Looking to avoid paying commission? TD Ameritrade also features more than 100 commission-free ETFs.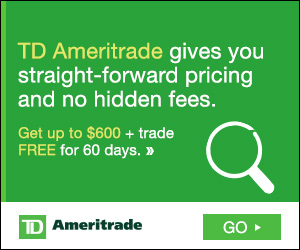 ---
Betterment Review
---
Founded in 2010, creators Jon and Eli wanted to design an online trading platform that would be easy to use and ideal for their customers to make easy and smart investment choices. The result? Betterment became the "intersection of investing and technology."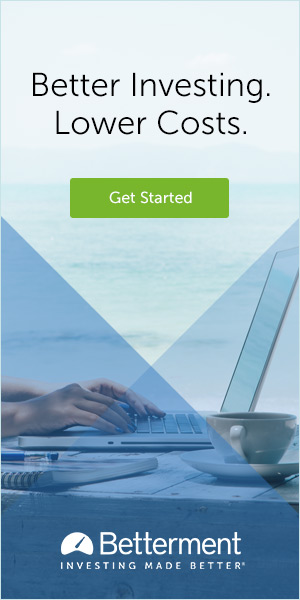 If you're searching for the best online trading platform, you might want to consider Betterment for its easy-to-use interface and investment strategies. Some sites may be considered the best stock trading site based on the low commissions, but Betterment has come to be a leader in the field based on its investment technology. What does its technology have to offer?
Get up to 6 months of service FREE if you sign up NOW
Key Factors that Enabled This Online Trading Platform to Rank as One of the Best Online Trading Platforms
Below are some of the essential reasons we chose Betterment to be included on our list of the best online trading platforms.
Automation
When you begin investing through the Betterment site, your portfolio is automatically groomed to yield higher returns than you might be able to do otherwise as a do-it-yourself investor. Here are a few of the automated features that make this one of the best online stock trade websites:
Outside investments: When you set up your account, you should sync all your outside investment accounts into Betterment as well. With all your net worth included in the overview of your financial status, Betterment may be able to suggest better or different ways to invest.
Goal-Based Investing Framework: Do you need to find the best online trading sites so you can reach a particular goal, like saving for retirement or beefing up a rainy day fund? The algorithms Betterment employs helps to manage the risk associated with your portfolio based on the timeline in which your account needs to be fully funded.
Rebalancing Portfolio: When you receive dividends or make a deposit, Betterment will automatically rebalance your portfolio. They rebalance your investments based on their algorithms that are designed to keep your taxes from skyrocketing. This is evaluated on a daily basis and all of the cash you have set aside is invested, even if it means purchasing a fractional share.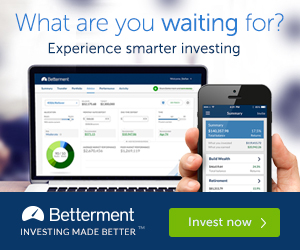 ► Better investing at a lower cost with Betterment. Start TODAY ◄
Pricing
While there is no minimum account balance necessary, there are still fees associated with the amount of money you have invested with this company. Betterment charges a low set of fees based on the amount of money you have invested and based on your automatic deposits. The charge is prorated across the year and is charged every three months:
Accounts totaling less than $10,000: For individuals with automatic deposits scheduled for $100 per month or more, they charge 0.35%. Without the deposits, these accounts are billed a flat rate of $3 per month.
Accounts over $10,000: No automatic deposits are required for accounts of this size and the fee reduces to 0.25% per year.
Accounts over $100,000: The fee from the previous bracket is even further reduced to 0.15% per year.
These fees cover all of your transactions, trades, transfers, rebalancing, advice, and account administration. Even some of the best online trading sites charge additional fees when you buy and sell, but Betterment does not.
Get up to 6 months FREE service. Invest NOW!
---
E*Trade Review
---
E*Trade boasts that it leads the way in terms of stock trading websites, being the very first site to make an electronic trade more than three decades ago. Making online trades since 1983, this digital brokerage also boasts something that many of the best online stock trading sites do not: physical branches.
With thirty locations across the United States, E*Trade can offer in-person financial and investment advice instead of strictly via live chats, phone conversations, or automatic algorithms.
Key Factors that Enabled This Online Trading Platform to Rank as One of the Best Online Trading Platforms
The unique aspect of live customer service from brick and mortar locations aside, here are some of the exceptional reasons that E*Trade qualified as one of our best online trading platforms.
Education
Having been one of the first online stock trading platforms available to the public, E*Trade currently offers a wide variety of educational resources to assist do-it-yourself investors in making wise choices. Of note, they can offer users the following:
Educational resources (a compilation of articles on popular strategies and investment-specific goals)

Commentary and insights

Live events

Free courses
E*Trade recognizes that not everyone is a seasoned investment professional and tailors the information they provide accordingly, making it one of the best online stock trading platforms for beginners. Even if you decide not to use E*Trade for investments (though they have a great selection of commission-free ETFs you might want to take a look at), it is still a wonderful resource to educate yourself.
Frequent Trading
While there are options for commission-free ETFs aplenty on E*Trade, the site also really shines for those individuals who are looking to make frequent trades. Some individual investors prefer to make initial investments and hold them for years to come, while others are constantly rebalancing and tweaking their portfolios.
You have the option to do both through E*Trade, but the pricing structure is set up to favor more frequent traders. The more trades you make each quarter, the lower your commission fees will be:
For up to 149 stock and options trades—$9.99 plus $0.75 options contract fee
For over 150 stock and options trades—$7.99 plus $0.75 options contract fee
For over 1,500 stock and options trades—$6.99 plus $0.75 options contract fee
In addition, you can also invest in over 8,000 mutual funds and more than 30,000 bonds and fixed income assets. Every ETF available is also fair game through E*Trade's investment platform.
Pricing
You need to open your account with a minimum of $500 for brokerage accounts. IRAs require no minimum starting balance. Unlike the low monthly fees based on the amount invested that other top trading platforms utilize, E*Trade calculates your fees based on the amount of trades you make:
Broker-assisted mutual fund trades—$25 plus applicable commission
Transaction-fee mutual funds—$19.99
For the list of all fees associated with their various trading options, you can view them here on the E*Trade website.
---
Motif Investing
---
Over the course of the last six years, Motif Investing has created a one-of-a-kind investment platform that has many naming it the best online stock trading platform. The trades it makes are centered on ideas or "motifs" of what interests individual investors. Each concept turns into a motif, "intelligently weighted baskets of up to 30 stocks or exchange-traded funds."
Since its inception, there have been over 150 professionally built motifs and more than 180,000 motifs built or customized by the community itself. Motif Investing is ideal for users who want to invest around a specific concept.
Key Factors that Enabled This Online Trading Platform to Rank as One of the Best Online Trading Platforms
Want to know how Motif Investing ended up on our list of the best online trading sites? Take a look at the various features that determined its ranking:
Flexibility
While the site is centered around providing you with what is essentially a custom-made ETF, investors have the opportunity to control just how much they want to alter.
The original creator of the motif up to thirty stocks and ETFs into a "basket," but the end user has the option to add or delete stocks and change the weights on each individual investment item. It is one of the best online stock trading sites for creative portfolio building.
► Get up to $150 when you start trading with Motif TODAY ◄
If you have been investing for a while, you can also browse through their catalog to create your own motif. While you might use this motif solely for your own investment purposes, any other users who stumble upon it and opt to invest with it gives you additional royalties.
Motif Investing also promotes the fact that it does fractional shares where you can invest up to a specific dollar amount in any individual stock or ETF. This gives you significantly more flexibility in which stocks you can purchase and how you can weight each one within your balanced portfolio or motif.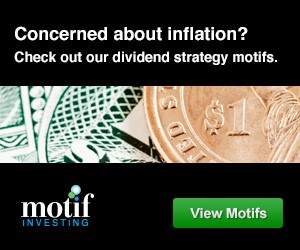 Community
Motif Investing is one of the only and best online trading platform options that gives you access to a community that can weigh in on your investment choices. Their community, sort of like social media for investors, can help you to build and modify your own investment themes.
Browsing through the community, you may even get different ideas about which sectors to invest your own money in or different trade strategies. As it is, most of their professionally assembled motifs are related to six strategies:
Sectors

Income generation

Trading philosophies

Global markets

Values-based investing

Asset allocation approaches
Open and fund your Motif Investing IRA today
Trading Fees and Pricing
You'll pay just $9.95 total commission for thirty stocks. Within this bundle of stocks, you can still weight them exactly as you desire. According to Motif Investing, you could expect to pay somewhere in the ballpark of $300 for the same services elsewhere. There are no management fees levied on the amount you have invested.
You will also need to invest a minimum of $250 into your motif of choice. However, Motif Investing recommends an initial investment of at least $300 to cover intra-day price changes and to accommodate your commission fee.
Not only is it flexible, but it's also incredibly easy to use. Save yourself tons of time by purchasing all thirty of your stocks and exchange-traded funds in one fell swoop with just a single click.
► Get up to $150 when you start trading with Motif TODAY ◄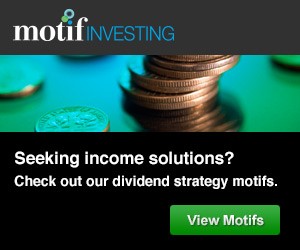 ---
OptionsHouse Review
---
OptionsHouse is one of the best online trading sites for low commission fees and advanced trading technology. Around since 2005, the company boasts high rankings from Barron's, another leading industry reviewer.
They have been named the 2016 top broker and have also received the Best for Options Traders award six years running in the annual review.
Their slightly longer time in business has resulted in a plethora of awards calling this choice one of the best online trading platforms.
Key Factors that Enabled This Online Trading Platform to Rank as One of the Best Online Trading Platforms
For more information on the features and pricing that makes OptionsHouse rank as one of the best online trading site options, see the following section.
Technology
The technology offered by OptionsHouse is comparable to what professional brokerages might have in their offices. They tout their tradeCYCLE process as a way to help you make better trades and increase your profits. Their interfaces are 100% customizable, allowing you to take closer looks at your profitable trades for better research and analysis.
Get incredible options rate with OptionsHouse today!
Their other platform, tradeLAB, also allows you to take a look at different strategies with customized metrics. You can see a quick profit/loss/break even picture for different stocks and options, helping you to better balance risk versus reward. Adjust the volatility to take a more in-depth look at the possible scenarios you may face from trading your stocks and options.
From these same screens, you can even place your trades right on the spot. With pre-populated orders, you can set your platform to notify you with alerts. These trigger alerts will even help you to see great opportunities to maximize your potential profits quickly.
For more advanced investors, you can dive deeper into their other programs such as strategySEEK to help you develop and fine-tune different trading strategies and gain insight with custom charts and graphs regarding the profits you've made from previous trades. You have the opportunity to analyze, learn, and grow a new trading strategy with potential situations that can test whether it will work best for your portfolio.
Why Pay More With Your Current Broker? Get $4.95 Stock Trades with OptionsHouse. Invest NOW
OptionsHouse Trading Fees & Pricing
First and foremost, there is no account minimum in order to open an account through OptionsHouse. Unlike other stock trading websites, they also don't require maintenance fees for relatively inactive accounts.
When compared to the commission fees on other top trading platforms, the rates are significantly lower than their competitors. Stock and exchange-traded funds cost a $4.95 commission fee, while options trades have the same base rate with only $0.50 per contract, less expensive than both E*Trade and TradeKing.
Who benefits the most from the pricing that OptionsHouse offers? Active traders tend to fare better from the fee schedule, with decreased rates as a reward for the more trades you perform.
Get incredible options rate with OptionsHouse today!
---
​Key Selection Factors – Selecting the Top 6 Best Online Brokers for Stock Trading
---
What methodology did we use in selecting this final list of the top online and discount brokers?
AdvisoryHQ News started out with a broader list of over 47 online and full-service trading websites.
We reviewed TD Ameritrade, Scottrade, Vanguard, Fidelity, E*Trade, Charles Schwab, Firstrade, Capital One Investing, Merrill Edge, USAA Brokerage Services, Motif Investing, Just2trade, Raymond James Morgan Keegan, TradeStation, OptionsXpress, ChoiceTrade, and many others.
After applying various criteria (popularity, discounter vs. full-service, trading capabilities, user experience, costs, online research tools, etc.), we were able to narrow down the list to the selected online trading sites and stock brokers presented in this article.
When conducting research and searching for online stock trading reviews to find the best stock trading site to meet their needs, investors (new, intermediate, or experienced) normally consider the nine key variables below.
As part of our research and online stock trading reviews to find the top trading platforms that would best meet your needs, we integrated the below nine variables into our selection methodology.
Cost per trade

Service fees

Fast execution

Margin rates

Promotions

Account minimums

Ease of use

Types of investments offered

Extras
Please click here for a detailed review of AdvisoryHQ's selection methodologies for ranking top-rated firms, products, and services: AdvisoryHQ's Ranking Methodologies.
---
Conclusion — Top 6 Best Online Trading Platforms
---
Utilizing an online trading platform can save you both money and time when it comes to making self-directed investments. Pricing from the discounted online brokerages can be fairly low, making it even more beneficial for you to use one of these stock trading websites instead of a traditional brokerage.
When considering the best stock trading platform or the best online trading platform, you want to keep in mind more than just the price. The technological advancements they can offer may help to uncover a new strategy that aligns with your investment style. Balance the technology, educational resources, pricing, and customer service to determine the best stock trading platform for your needs.
Keep in mind that many of these brokerages will offer specials and discounted rates during a trial period. These promotional offers change on a regular basis, so be sure to investigate all of the best online trading platforms you're interested in to see what they may be offering before making an account.
---
If you have questions, comments, or tips about this "Top 6 Best Online Stock Trading Platforms" article, send us an email. Also, follow us on social media to be the first to hear about major economic news stories.
Cheers,
AdvisoryHQ Team
---
Note: Some firms (and products)—including the one(s) above—that have been reviewed and ranked by AdvisoryHQ may be affiliates of AdvisoryHQ.
Also note that the above article may include affiliate or other related advertisements.
Click here to view AdvisoryHQ's advertiser and editorial disclosures, which includes a list of our affiliates.